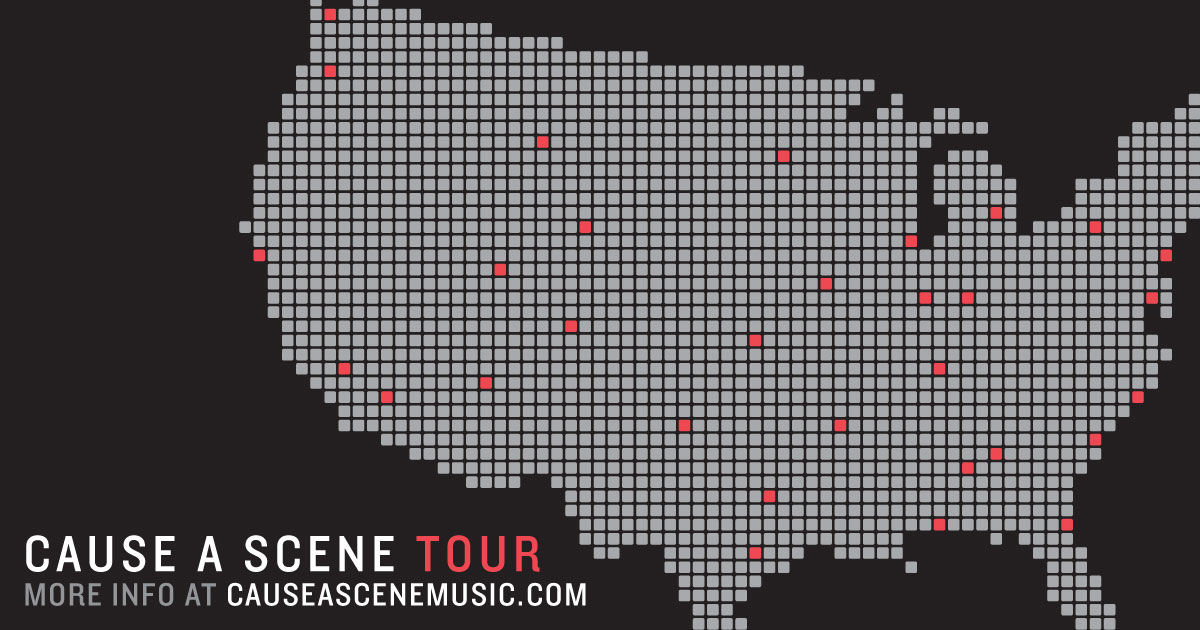 We're currently looking for people to host the first ever Cause A Scene tour this July and August. We are looking for intimate, inviting spaces that will hold 40-100 people and have a "house show" vibe. Our shows are hosted in non-traditional venues, such as houses, lofts, backyards, office/co-working spaces, local shops boutiques, photography studios, art galleries, barbershops, coffee shops, etc.
Please read the details below to find out what we're looking for and how to apply to be a host. 
Chicago, IL

Grand Rapids, MI

Detroit, MI

Cincinnati, OH

Cleveland, OH

Indianapolis, IN

Pittsburgh, PA

Philadelphia, PA

Boston, MA

New York, NY

Washington, DC

Charlottesville, VA

Durham, NC

Asheville, NC

Greenville, SC

Atlanta, GA

Louisville, KY

Chattanooga, TN

Knoxville, TN

Nashville, TN

Memphis, TN

Birmingham, AL

Florence, AL

Fayetteville, AR

Tulsa, OK

Oklahoma City, OK

Kansas City, MO

St. Louis, MO

Omaha, NE

Missoula, MT

Seattle, WA

Spokane, WA

Portland, OR

Ashland, OR

San Francisco, CA

Santa Cruz, CA

Los Angeles, CA

San Diego, CA

Phoenix, AZ

Flagstaff, AZ

Albuquerque, NM

Dallas, TX

Houston, TX

Austin, TX

Denver, CO
*If you don't see your city listed above, please still feel free to submit to host and we'll do our best to make it to your city if it fits into the tour schedule.
If you're interested in hosting a Cause A Scene show in your city, here's everything you'll need to know about how everything works:
We're looking for a house, loft space, boutique, barber shop, studio, or unique local space that can comfortably and safely host 40-100 people. You don't have to be super specific here, but a rough estimate will do. Ideally the space has parking close by and/or has public transportation readily available. We don't want to tick off your neighbors. 

Tickets for each show will be $15. Everyone must buy tickets in advance. No tickets will be sold at the door unless otherwise specified. All tickets sales will be directly through Cause A Scene and our ticketing partners at Eventbrite. In order to best ensure that everyone has an equal chance at getting tickets, we'll be limited sales to 4 tickets per order.

The week of the show, we'll send the host a list of everyone who has purchased tickets. We'll take care of all ticketing on our end, but we'll need you to help checking people in. We anticipate doors opening around 7:00pm with the music starting at 8:00pm with everything wrapping up by 10:00 or 10:30. 

As a thank you for hosting, we will give you 5 free tickets to give to friends or family. 

If hosting at your house, your address will not be published on the web and will only be given to people who purchase tickets. If hosting at a local business or shop, we may post the address to encourage day-of-show tickets sales, where applicable.

The shows will promoted on our website, Facebook, Instagram, Twitter, mailing list and via word-of-mouth as well as through the artist's' website and socials. We also may ask hosts to help with locally promoting the show with posters and through social media. We'll get all of those materials to you in a timely fashion and welcome any and all local marketing ideas. 

If you have a sound system available, that is wonderful but not required. Please specify in your email if a sound system is available for the show. 

With the shows being small and intimate in nature, much of the seating is on the floor up close to the "stage". With that in mind, we encourage guests to bring their own blankets, pillows, or anything else that helps make for the most comfortable setting possible. If you have chairs available, please let us know, as having chairs would be amazing, too.

A private "green room" type area for the artist is strongly encouraged so they can have some time to unwind before and after the show. 

If there's anything we missed here, you can email us with any and all questions at hello@causeascenemusic.com and we'll hit you back ASAP.
If interested in hosting a show in your city as part of the Cause A Scene tour, please follow the instructions below:
Please fill out THIS SHORT APPLICATION (it only takes 3-4 minutes).
Send an email to hello@causeascenemusic.com with photos of the space. Please be sure to specify which space you are emailing about.
Please put "Cause A Scene Tour" and the name of your city in the subject line. For example "Cause A Scene Tour – Nashville" if you're submitting to host for Nashville.
Sit back, relax, and we'll email you as soon as we can. Thanks in advance for your patience with all the incoming inquiries we're getting.
Thanks for your help and for being awesome! We're looking forward to bringing Cause A Scene to your city this summer!