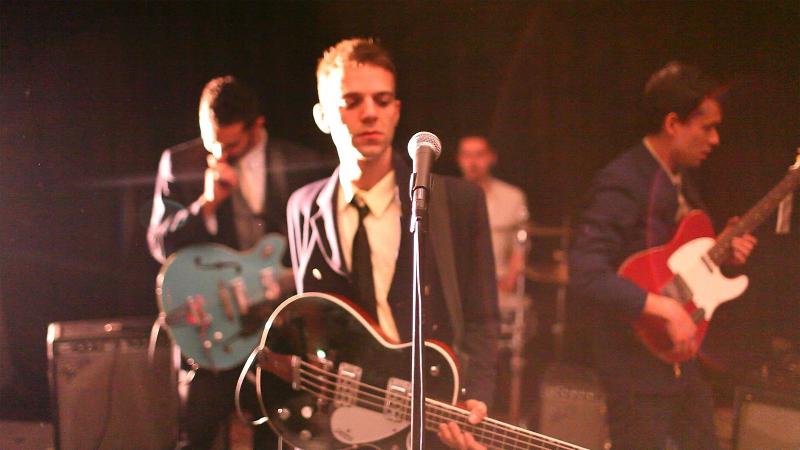 The foundations of The So So Glos can be traced back to 1991, when four-year-old Alex Levine, his brother Ryan Levine and stepbrother Zach Staggers began playing music together.
"I think we were really just delusional kids," remembered Alex. "At five years old, we were watching MTV and thought we had a band too. We would record tapes of us playing and as far as we were concerned, we were making records.
"We had the feeling before we had the technical skills," he continued. "It really was in the spirit of punk rock."
Since then, the band has added guitarist Matt Elkin and released two albums and two EPs. Their latest album, 2013's Blowout, was named among the 50 best albums of the year by both Rolling Stone and Consequence of Sound. It also saw The So So Glos touring with bands like Titus Andronicus and Nashville's Diarrhea Planet.
The So So Glos, who are based in Brooklyn, have also become active in the DIY and all-ages scenes there, working to open both an all-ages recording studio and performance space, Shea Stadium, and an all-ages venue, The Market Hotel.
"We really found a haven in the Brooklyn DIY scene," explained Alex. "Our music seems to go hand in hand with that energy. It's just for everyone. We try to do what we can, as far as playing, in community spaces but this country has such strict drinking laws. You can go to war before you can to a rock and roll show at a bar. There's no reason to put an age restriction on our music."
On Monday, March 17th, The So So Glos, fresh from SXSW, will bring their self-described early-90s punk rock to The End, where they'll be playing alongside Gunther Doug and Dogtooth.
"Our music kind of has an old school hip hop thing going on," Alex said, of the band's live shows. "We demand that everyone has fun. It doesn't really matter whether we're playing in Nashville or a Brooklyn basement, we encourage all kinds of expression. It's controlled anarchy."
– Meagan Lawson