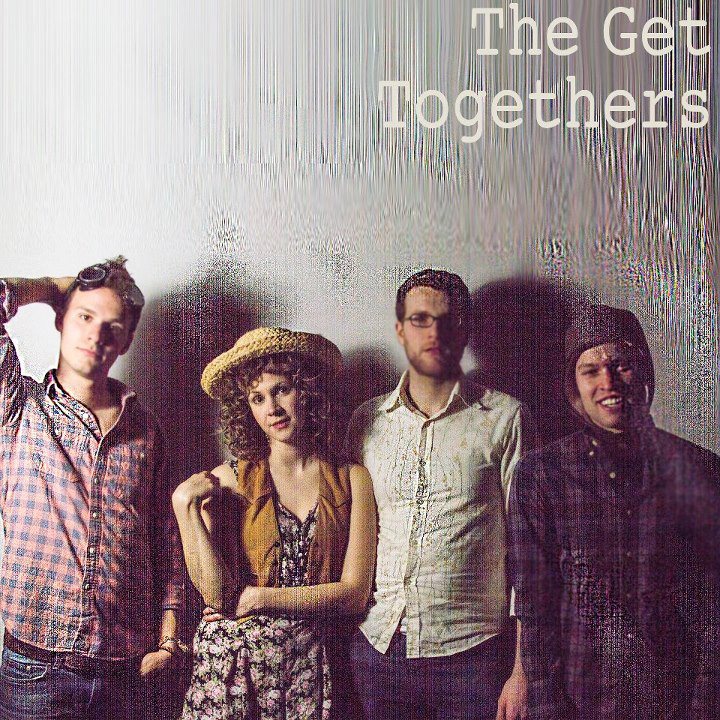 Bethany and Daniel Frazier account for two of the four members of The Get Togethers, an Indie Pop Rock band living here in Nashville.They are also recent newlyweds, having tied the knot just over a year ago. Daniel's brother, Andrew Frazier, and their good friend, Kayce Grossman, complete The Get Together coterie.
I recently had the opportunity to have dinner with Bethany and Daniel at their home in East Nashville. One of the first things I noticed when I walked in was a map on the wall marked with pink and blue strings held by thumb tacks, showing where each of them had been in the world. For their mutual trips, the two colored strings were wound together. A tagline pinned to the top of the map read, "The Misadventures of Daniel and Bethany." For the next two hours, we talked about a few of those misadventures.
Are you all originally from Nashville or somewhere else?
Daniel: "The three of us guys are from Nashville, and Bethany is from Houston."
How did you come up with your name, The Get Togethers?
Bethany: "After I moved to Austin, I was hanging out with a lot of people in my crazy phase of my life. I just wrote lyrics and melodies, but I didn't play music yet. Every time I got together with people, I would say, 'Let's write a song,' etc. My idea was that every person was a part of the writing of this invisible 'million man band,' and it was The Get Togethers. Eventually, it was narrowed down to the four of us."
And you recently released your first full-length album, Home As In Houston, which is just phenomenal. What is the inspiration behind the album title?
Bethany: "I was living in Austin, and Austin is where I started writing this record. I was on the phone talking with a friend, and she asked me where I was going? I said, 'Home, as in Houston.' The moment I said it, ever since I said it six years ago, I knew that would be the album title. It has twelve songs, each song being named after each month in 2007."
What do you guys hope to accomplish as a band?
Daniel: "We want to make it, but more than just get signed or sell a lot of CDs. I guess we want to help people, and tell our story."
Beth and Daniel expounded on their story, and how they want to use their experiences to help people. With praiseworthy vulnerability, Bethany shared a story with me that took place for her in 2007, what she calls the worst year of her life. She proceeded in explaining that she had taken part in an affair with a female teacher at her school, and opened up about how that affected her:
Bethany: "When I had the affair when I was 17, I was like mentally insane and depressed after I graduated high school. I just went off the deep end in every way [pause, deep breath], and as I was depressed and going off the deep end, I just thought about 2007 even more and more. It was a horrible year. As I was depressed, angry, doing reckless things, the more I thought about 2007, I knew I had to document it, record the events in some fashion. I knew I had to do that, or I would never be able to let go of it."
How has documenting your story of 2007 through the making of Home As In Houston helped you?
Bethany: "I felt like I had to make it available even for myself to see later on. At the end of the affair, I was like ashes. The reason I wanted to document it is because I thought I was in love with this person and that she was going to make my life better. I had already had a horrible childhood. People were always like, 'What's wrong, what's wrong?' And I couldn't say anything. It was this thing that was the ultimate secret. I couldn't tell anyone that I wanted to kill myself."
Daniel: "It didn't allow freedom at the time. It made us dwell on it to a more intense degree at first. But when we started dating, that's when things started changing. Over time, things just became different. To a greater degree, the day we finished recording, there was this great feeling. It was really weird; it just felt released. Not like it was affecting us personally, but it was like, it exists, and the weight is gone. It was a really bizarre day. There was that feeling I had of importance. We had just finished something and it was important and it was good."
How did you both come to know each other, and when did those butterflies start kicking in?
Bethany: "I met Daniel in May 2008 while I was living in Austin with my girlfriend and going to The University of Texas. On this one particular night, I exited a highway going like 60 mph and had a head-on collision. My collarbone snapped and I was taken to the emergency room…"
Daniel: "My best friend, Jonathan, who was my best friend in college had a friend named Emily, who was a mutual friend with Bethany. Jonathan and I had traveled to Texas for a Radiohead show, and that's when he found out that his good friend, Bethany, had been in a bad car wreck. 'Do you want to go see her with us?' he asked me, and we went to see her at a hospital in Houston. I didn't know I was going to marry her yet, but I just knew the second I saw her that I was doing the most important thing I had ever done. I told that to everyone that night."
What's it like being married and being in a band together?
Daniel: "It's awesome, but it sucks because your marriage problems become your band problems, and vice versa. It's really wonderful because if I was in a band without my wife, I would probably quit because I wouldn't want to be away from her so long…"
"Oh, no!" Bethany cries out from the other room as there is suddenly a smell of burning toast wafting through the living room.
A few minutes later, the three of us were eating Tuscan bread, chicken and spinach tortellini with Alfredo sauce made by Bethany. She insisted that it tasted terrible, and Daniel and I, with complete honesty, insisted otherwise. After eating, we transitioned back into our convo.
What vibe do you have at your shows?
Daniel: "We like a mix of having a lot of fun and having an impactful emotional connection. Songs like April, June and October are really fun and have a dance-y thing going on. I like seeing people having a good time, but I like songs like November, too, that have more of an emotional draw."
Do you guys have a favorite song on the album?
Bethany: "November. It's about how justice exists. It's the climax of the record. It's the song that explains everything. You can cry to it and also find relief in it."
Daniel: "September. Everyone has a special place in their heart for it."
Bethany: "The music on this record has been a five year process, but we brought it all together in literally a week."
Daniel: "Beth wrote the opening riff for September five years ago."
Bethany: "The first time we ever played this to record it was the first time we ever played it. One take. When we came to Nashville, we ended up re-tracking it all, but we kept the original format."
Now that the album is written and recorded, do you still want to hear it, or do you want to let others hear it but personally leave it all behind?
Bethany: "After everything we've been through and what this record has done in all of our lives, how it's bonded us, how it's changed us, we love listening to it, especially when we're together."
Daniel: "And we do want other people to hear it. A lot of time when you're making a record it's easy to get sick of it, but our process was elongated. We recorded in Seattle, moved, got married, didn't work on it for like two months, recorded a bunch over five months, then it took another five months to mix and master."
Is there anything you want to say to your fans?
Daniel: "I feel so blessed to be a part of it, and for my wife to be my wife. I'm excited that I get to be in a band with her and make music with her, because most people don't get to do that, and it's really awesome." (Daniel then turned to Bethany and spoke to her) "It's just really awesome to get to work on an album and have these problems with you."
Bethany closed with a concise word of wisdom: "It's a long road, so you might as well start walking."
Right before I left, Beth and Daniel played Blueprints, one of their new songs, for me. She sat cross-legged on the couch arm rest and he played a Seagull guitar. As they sang, I looked around the room at the map, at a vinyl copy of Radiohead's In Rainbows, and I thought about Bethany and Daniel's encounters thus far, what they call their "misadventures." I saw two people a year into marriage, two members of a phenomenal band with the music, the personality, and the story to reach millions, and I couldn't help but sit in awe for a moment at the untold impact their lives and their music will have. 
– Adam Naylor