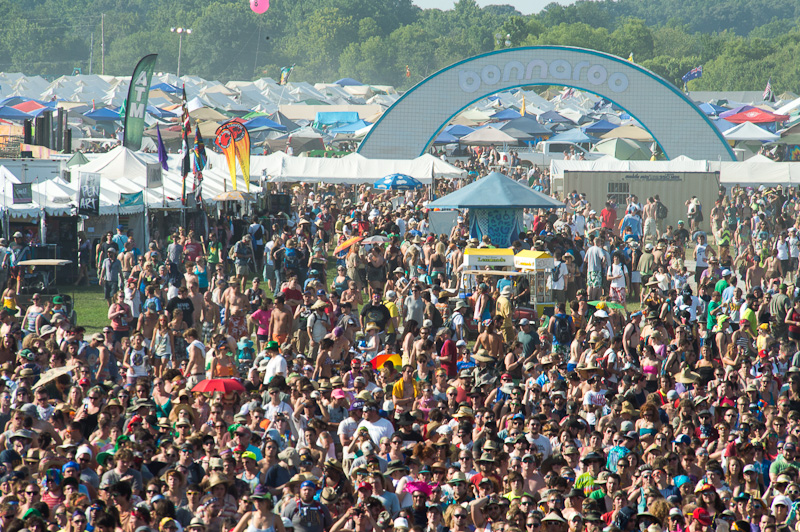 (Image courtesy of Bonnaroo.com)
(Cause A Scene contributor Molly Williams made her first trip to Bonnaroo last weekend, and, well, she had an absolute blast as you might expect. Read her wonderful account of the weekend's happenings here!)
Once a year, in a 700-acre field in middle-of-nowhere Manchester, Tennessee, tens of thousands of people come together for all corners of the country to experience music in one of the most unique ways you could imagine.
Days at Bonnaroo are packed with people from every corner the country (even some international visitors), hot sun, tightly packed camping, dust and dirt (and if you're lucky, some mud), food trucks, lines for just about everything, and your choice of 150 impressive performances spread between 10+ stages.  Add to the list art, green grass, a mini film fest, dancing, comedy acts, meeting and bonding with complete strangers, some of the best people watching you could ask for, lights, a water slide, crowd surfing, and did I mention music? Yeah, there's some of that.
This past weekend I joined 79,999 other music loving Bonnaroovians for the ultimate bucket list event. Personally, I never dreamt of going to Bonnaroo until the day I got an invite to volunteer a few hours each day in exchange for a free pass. (Advice: if you have never gone, or even if you have, consider volunteering. There are tons of options/times so you can manage to get in free and still see all the performances.) The idea of 80,000 people in that kind of environment wasn't at the top of my list, or even on my list at all. Boy was I proven wrong – well played Bonnaroo, well played.
The performances I saw in just two of the four days included some of the best I have ever seen. Blind Pilot, Punch Brothers, The Roots, Red Hot Chili Peppers, Gary Clark Jr. – each and every performance was an impressively energetic display of amazing talent. I found myself grooving and singing along to some while others left me literally speechless (in the best way possible).
The undeniable power of music is something that I've always loved and been extremely aware of, but Bonnaroo took it to a whole new level. Whether it's bringing thousands of strangers together to watch one band on a stage in the middle of a field, silencing a crowd with raw talent, or motivating a girl to crowd surf across hundreds of people for the first time, Bonnaroo is a place where music overwhelms you with a feeling of freedom and energy. There's something about getting away from the normal day-to-day and being surrounded by limitless music that will give you a new appreciation for the songs you hear and the life you're living.
Even though I missed two days of incredible lineups on Thursday and Friday (including Radiohead, Feist, Needtobreathe, The Avett Brothers, Dawes, and more), my favorite performance from Saturday and Sunday hands down was Bon Iver. It's hard to sum up with words what I saw and felt at that performance. My friends and I were lucky enough to secure a spot in line for the main stage that guaranteed we would be front and center on the fence. I knew it was going to be a great show, but I had no idea how incredible it would ultimately be.
The talent of the nine musicians on that stage literally left me, and at points the entire audience, silent. There was a giant grin spread across my face the majority of the show hoping that Justin Vernon would play through the night. Each member of the band was intriguing. Two drummers, some band members switching between multiple instruments, the tricks behind some of the sounds you can so easily overlook when listening to Bon Iver's album – all these things made for a phenomenal display of beautiful music in a completely real form that I won't soon forget.
When Bon Iver left the stage I was tempted to end my Bonnaroo experience there. There was one more show I planned on going to and I suddenly felt like nothing could top what I just witnessed. But, my friends convinced me that fun.'s show would be the perfect energy-packed performance to wrap up our epic weekend. They were right, and the show had a few surprises of it's own. There's no denying the band lives up to their name with their stage presence. As the show was wrapping up, a few of my friends decided it was the perfect chance for some crowd surfing. I watched as they all took turns getting lifted up and disappearing to the front of the crowd over the hundreds, maybe thousands, of people in front of us.
Initially I didn't think twice about holding my place with two feet on the ground, but suddenly it hit me – I was at Bonnaroo. If I was going to do this anywhere, it was here and now. When I finally spoke up and mentioned I was considering it I was convinced the band was on their last song and thought I'd missed my chance. Luckily my friend wasn't going to let me back out that easily and when fun. started playing We Are Young I knew that was it. I threw down my bag and kicked off my shoes. "Let's go." Before I knew it I was floating over the crowd looking out across the endless mass of people all belting out the perfect soundtrack – tonight we are young, so let's set the world on fire, we can burn brighter than the sun. Pretty incredible. Only at Bonnaroo would this girl decide to crowd surf for the first time. I guess music will do that to you. That's a memory that I will never, ever forget and I can't think of a better way to end my first Bonnaroo experience.
Thanks, Bonnaroo, for laughs, sunshine, volunteering, people-watching, dirt, mud, donuts, nature, adventures and one of the best music experiences I've ever had. I'll be back and I think there might be a few first-timers coming with me.