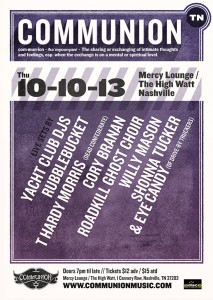 My story and the story of Cause A Scene over the last year and a half would be incomplete without telling the story of Communion Records. Founded several years ago by Ben Lovett of Mumford & Sons, Kevin Jones of Bear's Den (if you don't know that band, you will soon) and legendary producer Ian Grimble (Manic Street Preachers, Travis). With a track record of launching buzz worthy artists like Gotye, Ben Howard, Michael Kiwanuka, Daughter and The Staves into the music world, they've developed quite the track record for cultivating burgeoning talent around the globe.
It's no wonder that with their folk beginnings in the UK that I was naturally drawn to them and their roster of artists. Somehow this record label just got me, and through their artists, their compilation albums and especially their monthly showcases in cities all over the world, they never let me down in allowing me the opportunity to discover phenomenal new musical talent. (See: Vance Joy, The Trouble With Templeton, Half Moon Run, etc.)
Flash back to a mere 18 months ago and here is the scene, one which, if you know me, you've likely heard some version of this story. It's March 6, 2012, and I'm sitting along the stage just a handful of rows back for Mumford & Sons' first-of-three sold out nights at the iconic Ryman Auditorium. The night will be forever remembered by many in attendance as the night Marcus got sick and had to leave the stage three quarters through the set. For me, however, the night will always be remembered as the night I said to myself: "I want to work with the bands that play on that stage. I am going to do music for the rest of my life." At that point I had curated a grand total of two house shows and racked up maybe ten blog posts on artists, but I felt that the music world is where I was supposed to be. Thus Cause A Scene was formally born, based largely on the Communion model of finding developing talent before they become the "next big thing" and helping them get to that point.
Flash forward a year exactly, to March 6, 2013, and I am sitting in my boss's office hearing him say these words: "There is an opportunity that I'd like to present you with if you're interested. I understand Cause A Scene is growing and you'd like to spend more time focusing on that, but you should know that Ben Lovett and I have talked about you and Cause A Scene and he's interested in bringing you on board with Communion in Nashville." I was shocked. I was ecstatic. Most of all, I just felt blessed. Six months later I had the opportunity to actually meet one of my heroes at a Mumford & Sons show in Birmingham (pictured below). And that brings us to where we're at now, with Communion's relaunch in Nashville set to happen in a mere nine days on October 10 at Mercy Lounge and High Watt.
As the Nashville Scene said, Communion is "intended to profoundly alter the rhythm of a live show, giving it a more youthful and current feel by making it more, well, communal." It's been called by NME as "one of the greatest indie success stories of recent years." Over the last year in Nashville, Communion has hosted some of the best new bands in the country, including Shovels & Rope, Michael Kiwanuka, Night Beds, Alanna Royale, St. Paul & The Broken Bones, Escondido, Holly Williams, John Fullbright and many more.
Next Thursday night, we (Communion) are pleased to be presenting Rubblebucket, Roadkill Ghost Choir, and Willy Mason, along with Yacht Club DJs, T. Hardy Morris, Cory Branan and Shonna Tucker & Eye Candy. The bands will be split between Mercy Lounge and High Watt with local artisans setting up pop-up stores in between. Our dear friends at Grimey's, Nisolo, and Red Earth Trading Company will be joining us for the night to create a true community vibe.
Over the next several days, Cause A Scene will be highlighting each of the artists performing at the Communion relaunch, starting with Rubblebucket tomorrow. I hope you will take the time to check out each artist and join us next Thursday night for what promises to be a special night as we work to make the live music experience something even more special and community-oriented. Tickets for the show can be purchased HERE for $12 in advance and $15 the day of the show. More information can be found on the Mercy Lounge website, and to get a deeper sense of what Communion is all about, check out the video from our US launch last year below and the playlist of artists performing at next week's show below.
– Larry Kloess