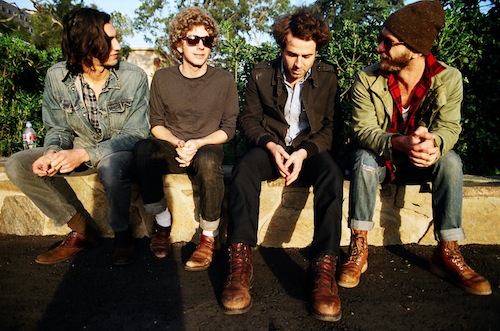 The first time we saw
Dawes
, there couldn't have been more than 100 people crammed into the Mercy Lounge. Sunday night, they packed the 1000+ capacity Cannery Ballroom and delivered exactly what both the veteran and rookie Dawes fans expect: a night of pure, unadulterated rock and roll with all of the emotion that so many bands in America hope to cover up with smoke and lights. On the contrary, Dawes consistently delivers one of the most refreshing live music experiences touring the United States today, and Sunday night was no exception The evening opened with the unique personality of
Simone Felice
, whose brothers (The Felice Brothers) also carry a genetic disposition towards menacing facial expressions and potentially distressing lyrics. The especially dark opener, "New York Times" met squarely with our expectations based on our familiarity with Simone's former band of brothers as did the deceptively twisted "Shaky" despite its seemingly fun lyrics like "C'mon and shake that country ass!" But it was the sequence of covers from The Band that closed Simone's sequence that set the tone for the night's headliner as Simone and his ensemble paid tribute to the late Levon Helm with "Atlantic City" and "I Shall Be Released," which featured the accompaniment of Nashville favorites – and fellow Gentlemen of the Road tour guests – The Apache Relay.
The scene was set for Dawes to bring out their own special guests, as an extra microphone was placed rather inconspicuously in front of bassist Wylie Gelber, who has no singing credits on the band's albums. Indeed, it would be Deer Tick front man, and Taylor Goldsmith's close friend and cohort from side project Middle Brother, John McCauley, who would join the band for "When My Time Comes" and "Million Dollar Bill" sandwiched around Deer Tick's "Baltimore Blues No. 1." Simone Felice himself would even make a brief cameo adding backing vocals alongside Griffin Goldsmith as Dawes would close their encore with the radio hit "Time Spent in Los Angeles."
But it was the tracks in between that are what make a Dawes show so memorable. It was Taylor Goldsmith's guitars on "Fire Away," the reference to playing in Nashville where Taylor claims "we all know each other already," and the heartfelt line of "… pile on those mashed potatoes and an extra chicken wing" that really engaged the Cannery crowd this Sunday night and left us anxious for their third album, which we understand recording for to begin next month.
Dawes has certainly benefitted in Tennessee by playing premier spots – opening night of Soundland 2011 at War Memorial, opening for Mumford & Sons w/Apache Relay at the Ryman this past spring, and just the night before in Bristol with the Gentlemen of the Road tour – but its simply at these shows where they continue to win over music lovers. And if all that wasn't enough, Dawes, along with The Apache Relay, Simone Felice, Nikki Lane and a cast of others made their way down 8th Ave for a late night after party at The Basement that lasted until at least until 2:00 in the morning. We couldn't be more excited to see the growth Dawes has made as a band and to see the amount of hearts they continue to win over in Music City. Count us among the many who have been completely won over.
– Brad Hughes