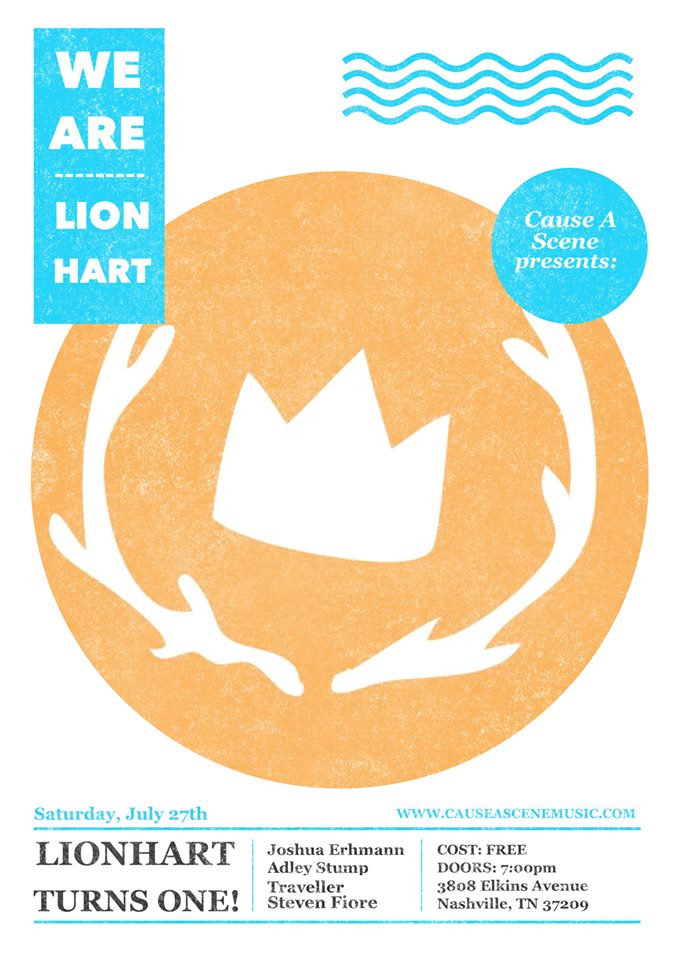 This Saturday Cause A Scene is proud to present a show in celebration of Lionhart's first full year of operation. Lionhart is an organization with the mission to "empower and encourage young women struggling to know their true worth, and equip them to spread courage and confidence within their own communities." Their first birthday is an excellent reason to celebrate, and one that we at CAS are thrilled to be a part of. And what better way celebrate such a great cause than with a night of free music?
If the name Adley Stump sounds familiar, it may have something to do with the fact that you have most likely seen her on TV. Stump was a contestant on Season 2 of NBC's 'The Voice," and for good reason. The native Oklahoma native discovered her 'voice' later in life while studying PR at Oklahoma State. While late to arrive it didn't make her talent any less spectacular or noticeable. Her gift was so noticeable in fact that it led her to Nashville to audition for "The Voice," and her life hasn't been the same since. In the time since she has put her PR aspirations on hold, and is currently fully pursuing her career as country artist and singer-songwriter. Her momentum isn't slowing down either. Stump's debut single "Like This" is due to release in the coming weeks. But don't let her exposure fool you into thinking that she has forgotten her roots. In response to the devastating tornadoes that tore through her home state this passed May, Stump collaborated with Nashville songwriters and recorded the song "Weather the Storm" to benefit and bring awareness to the victims of this horrible disaster.
Also on the bill for the evening is singer-songwriter Josh Ehrmann. Born and raised in St. Louis, MO, Ehrmann currently resides in Nashville where he is passionately pursuing his love for music. He released his 6-track album, Hold On, earlier this year. The talented acts Steven Fiore and Traveller will also be contributing their talents to what is sure to be a fantastic night of good music. Fiore is a singer-songwriter from Charleston, SC who has an indie-folk sound with a bit of a country twist. He has self-released three EPs in the few short years he has been recording his music and released his first full-length album, "Youth and Magic" this spring. Traveller is the new project of Nashville singer-songwriter Mikaela Hamilton, and this Saturday's show marks their debut. We at CAS are honored that they chose a CAS house show for their first live performance and we are pumped to hear what they have in store.
So clear your schedule for Saturday evening, and get your ass down to 3808 Elkins Avenue in Sylvan Park, because you're not going to find a better cause to celebrate, nor better music to listen to. All we ask for in return for your entry is that you kindly RSVP here. Doors open at 7:00PM and the party starts at 7:30PM.
Adley Stump- 'Weather the Storm'
Weather The Storm by Adley Stump
Josh Ehrmann- 'Listen Pt. 3'

Steven Fiore- 'Flicker and Fade'