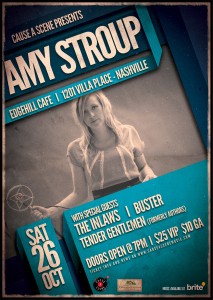 This Saturday night Cause A Scene is bringing another stellar lineup of up and coming talent to Edgehill Cafe. Fronting the evening's set, which is sure to fill the night with clap inducing rhythms and ear-tingling melodies, is Amy Stroup. Developing her talents from a tender age, Stroup has been molding a musical identity that is only beginning to truly take shape. Born in Boston and raised in Texas, Stroup has always been drawn to music, a draw that ultimately landed her in Nashville, where she studied classical guitar and marketing at Lipscomb University.
In the years that have followed she has kept diligent focus on her work and has not let up for a second. In that time Amy has released multiple digital-only EPs, had her songs featured on more than 20 TV show and multiple TV ads, been named one of Prairie Home Companion's "Top 20 Songwriters Under 30" and won a national Peacemaker Award. 2011 marked the national release of her full-length effort, The Other Side of Love Sessions, a compilation of new recordings of her best songs from her digital EPs. In 2012 She teamed up with singer songwriter Trent Dabbs to form Sugar & the Hi-Lows. Their self-titled album received high praise from both fans and critics and allowed Stoup to explore new territory in her vocal abilities. As of late, Amy has been hard at work in Nashville on new material, the product of which is her new single 'Falling" that released just last month.
This evening of music will also feature sets from three other Nashville pop-folk acts. The Inlaws is a new collaborative project from Caleb and Will Chapman of the local band CALEB, and Will's wife, Jillian Edwards. Buster is comprised of musicians Pheobe Bridgers from LA, Harrison Whitford from here in Nashville and Jackson White. The band has been touring the country between the west coast and here in the Southeast and was recently featured on the Billy Block Show this past summer. Tender Gentleman is a local band formed out of Belmont University. Formerly know as Authors, Tender Gentleman has been rapidly spreading their music and building their name throughout Nashville. The band recently played at 12th and Porter with rising folk act Judah and the Lion.
We at CAS hope you are as excited as we are to see and hear these talented acts tear it up at Edgehill Cafe, located at 1201 Villa Place this weekend. General admission tickets will be available for $10 and VIP for $25. VIP tickets include a 3-course dinner (see menu below), beverage and preferred seating. This place fills up quick, so get your tickets ahead of time here and ensure that you don't miss out on this unique evening of entertainment in Nashville. Doors will open at 7:00 PM with music soon to follow.
Menu provided by CSA Green Door Gourmet:
First Course: White Bean Soup
Main Course: Slow Cooker Brisket Banh with Arugula Salad
Dessert: Baked Apple Cider Donuts
Amy Stroup- 'Falling'