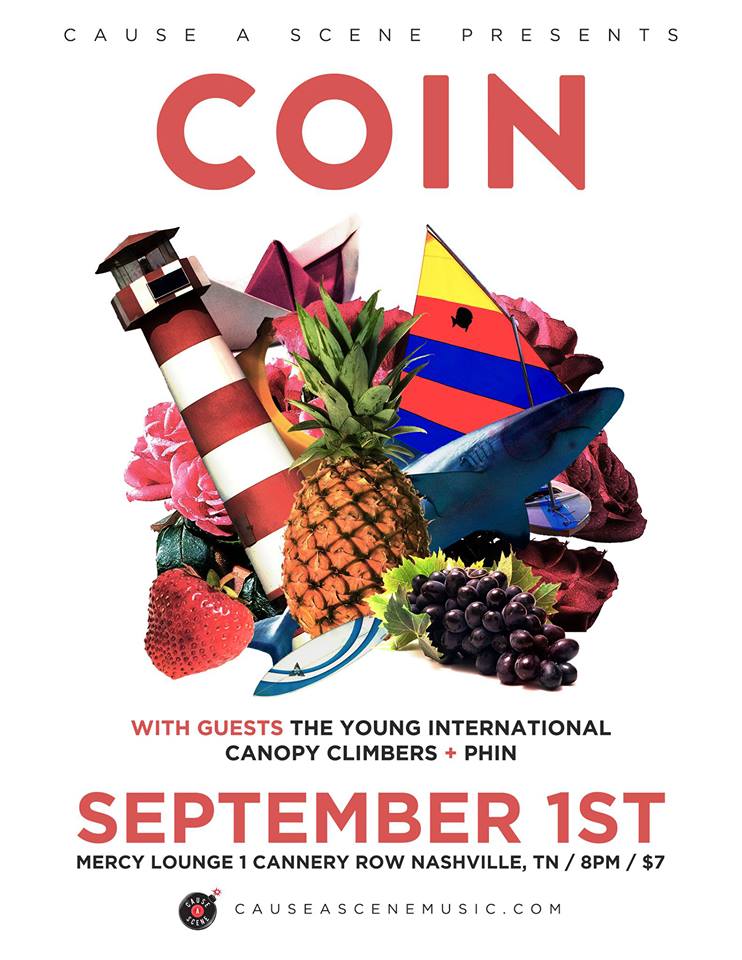 We at Cause A Scene are ecstatic to bring you our first show at one of our favorite venues in town, Mercy Lounge, this Sunday evening and we are doing so with a lineup that will have you jumping and dancing deep into the night. Headlining the bill is indie-pop band, COIN, who have long been a Cause A Scene favorite. The Nashville-based quartet released their newest album, 1992, earlier this summer, and is drawing significant buzz both locally and across the wide spanning indie circuit. Recently having sold out their CD release show at 12th & Porter and having opened for Paper Route and Halfnoise at Exit/In, trust us when we say that these guys are the real deal.
Adding significant depth to the evening's bill, we are excited to welcome back Cause A Scene alums The Young International and Phin, and CAS newcomers, Canopy Climbers. Alt-rock quartet The Young International's new singles, "More of the Same" and "Vampire," which released earlier this year, are the most recent product of one of Nashville's most promising rising talents. Canopy Climbers are a trio formed in Arkansas that now, separated by distance, continue to write and record with the help of technology. Continually developing a sound that drifts somewhere between indie-rock and pop, the band released their sophomore effort, Miles, earlier this summer. Rounding out the lineup for the night, Phin is a newly formed Nashville band who despite their short time playing together are quickly catching the ears of music lovers, both in our fair Music City and beyond. Helmed by local singer-songwriter Toby Haydel, Phin is comprised of Trevecca Nazarene University students who have made large and quick strides this year, forming the band and cutting their first EP, Those Killers, which boasts a mature and well crafted sound.
Celebrate your long weekend in style this Sunday down at Cannery Row, for what is sure to be one of Cause A Scene's most exciting and high energy shows of the season. Get your tickets here for $7. Doors open at 7:00 PM and the party starts at 8:00 PM.
– Christian Lerchenfeld
Get amped for the long weekend with our Spotify Show Preview playlist!