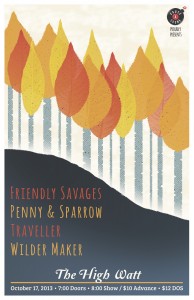 Strap yourself in for another night filled with fantastic music brought to you by Cause A Scene, this Thursday evening at The High Watt on Cannery Row. Leading the night's stellar lineup is a band who is quickly making a name for themselves in a city that is wrought with a dense population of talent and sound. Based in Austin, TX, Friendly Savages has spent the two short years that they have been making music together constructing a sound that seamlessly blurs genre lines, mixing influences that pull from folk, rock, blues and even classical. Their full-length debut, O, Joshua!, released earlier this year, was a true testament to the bands reach as songwriters and performers, quickly climbing to #3 on the iTunes singer songwriter charts. Suffice it to say, we at CAS are excited to host these boys here in Nashville.
Filling out the night's bill is another Austin, TX outfit Penny & Sparrow. Making their second Cause A Scene appearance, this talented duo has a reputation for blowing a CAS audience's hair back. Former roommates Andy Baxter and Kyle Jahnke played their first Nashville house show in East Nashville a this past summer, and while it was only a few months ago it is easy to say that they could not have returned quick enough. Jahnke lays out simply orchestrated rhythms with a lone acoustic guitar providing the foundation for Baxter's strong and haunting vocal melodies resulting in a distinctly original musical identity that draws influence from The Swell Season, Bon Iver, Mumford and Sons. Their 2013 full-length release, Tenboom, is a compilation of 10 tracks that displays a rawness and maturity that is truly refreshing in a scene that is often muddled with mediocrity.
Brooklyn-based Wilder Maker will also be sharing the stage. This band's size (10 members to be exact) may lead one to assume that their sound is large and excessive, but it is in fact the contrary. Despite their numbers, Wilder Maker's music is the sort of bare bones of Americana music that boasts raw and stripped down instrumentals and lyricism. The band released their second album, Year of Endless Light, just last month.
Topping off the evening will be Traveller, the new project of local singer songwriter Mikaela Hamilton. Traveller made their live Nashville debut back in July at a CAS house show. We are thrilled to have them back again, on a larger stage and playing alongside a group of immensely talented craftsmen. Traveller's first single "Animal" is due to release via NoiseTrade later this week.
Don't miss out on what is sure to be another raging CAS night at The High Watt, full of stellar talent and kick ass music. Get your tickets here for $10 in advance or $12 DOS. Doors open at 7:00 PM and the music starts at 8:00 PM.
– Christian Lerchenfeld
Friendly Savages- 'Her Locket on a Chain'

Penny & Sparrow- 'Heroes and Monsters'

Wilder Maker- 'Float Us Through the Barroom'