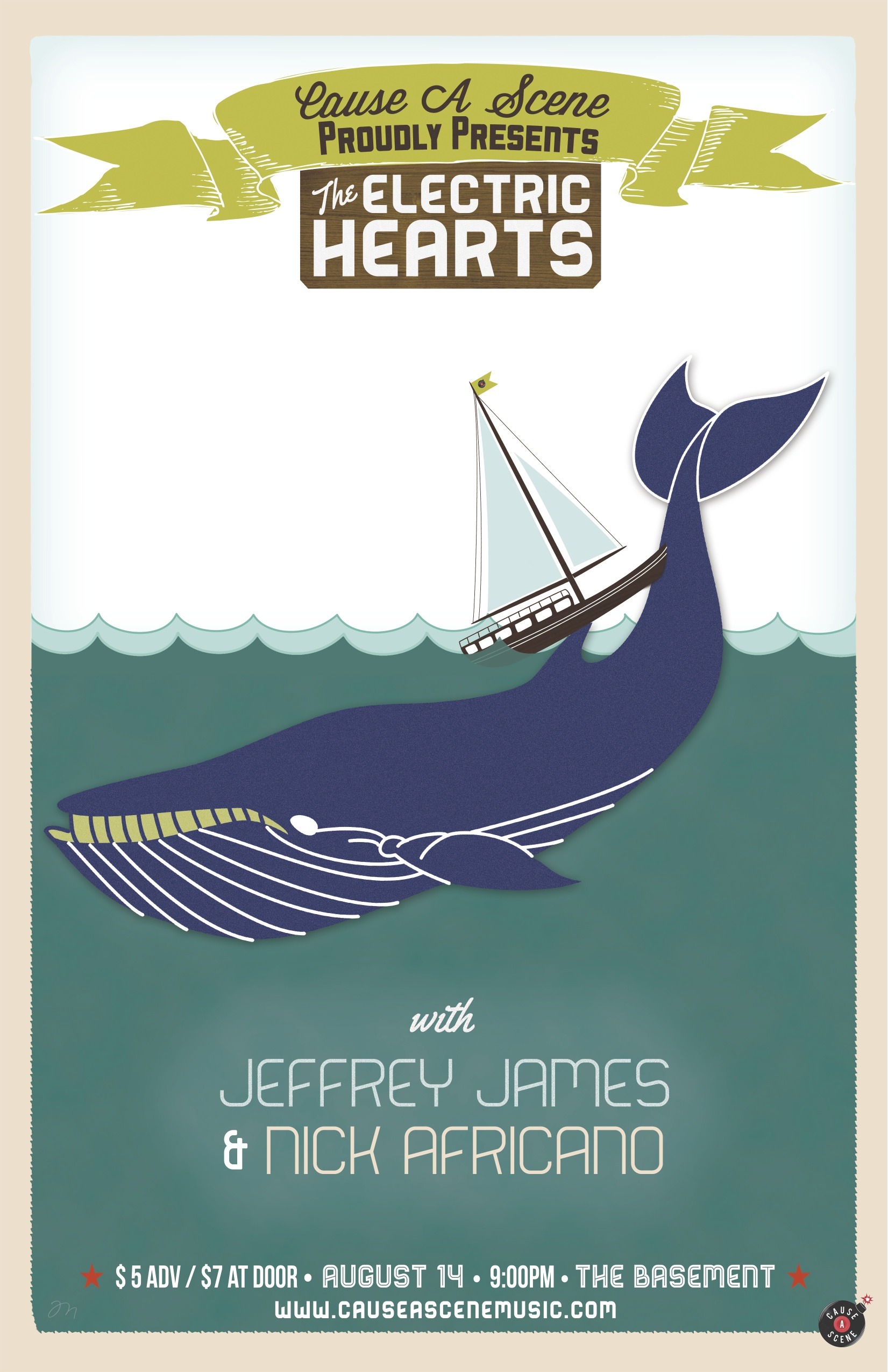 Come on out next Wednesday night for another great CAS lineup at The Basement. The Electric Hearts will be headlining the evening with a sound that is self-described as "a blend of 60s and 70s rock, pop and psychedelia with a touch of modern indie rock," and they are sure to be a good fit for the tight knit, homegrown vibe that The Basement so effortlessly provides. This Nashville-based band will appeal to fans of acts such as the Alabama Shakes and Gary Clark Jr. (both of whom the band has recently supported as they have toured across the Southeast), as well as Luella and the Sun and ZZ Ward. The band, currently Lightning 100's Artist of the Week, also recently played Red Bull Sound Select with Airborne Toxic Event and Alanna Royale. The Electric Hearts released their most recent EP, The Life and Death of Fritz Pepper, just this passed June.
Also on the bill for the evening is another Nashville musician, Jeffrey James, who's roots rock instrumentals, helmed by his soulful vocals, have made him a Cause A Scene alumni favorite and will also make him the perfect complimenting act to The Electric Hearts. James's 2012 EP, Make Your Way To The Flashing Lights, was mixed and produced by Konrad Snyder, who has also worked with fellow hot Nashville up-and-comers, Night Beds and Kopecky Family Band. James is taking a different and more unconventional approach with his new material. Under the name the Wide Awake Project, James is releasing one song at a time. The turnaround between each song ends up being about every month or so, just as quickly as it can be written, recorded and promoted. The new format is an intentional removal from the traditional EP or LP multi song write/record/release method that takes place over several months. The new process seems to mimic a sort of artistic stream of conscious, and stems from James's desire to experiment with the freedom and control that comes with being and independent artist.
Brooklyn, NY-based singer-songwriter, Nick Africano, will be rounding out the evenings lineup. With a sound described as being somewhere in between the mysterious space of rock and roll, storytelling and folk music, Africano has toured much of the US. As of recently he has also jumped the pond, touring in England and Sweden. Africano has independently recorded and produced two LPs, the most recent of which, The Butterfly Bull, he released in May of 2012. Africano's new single, "Lonely Hearts," was released just last week.
The evening's music will start at 9:00PM. Doors open at 8:00PM. Tickets can be purchased here for $5 in advance. Tickets will be $7 DOS. All advanced online purchases will come with a free download of Jeffrey James's new single, "Bad Woman," which released just this week.
– Christian Lerchenfeld
The Electric Hearts- 'Tired'

Jeffrey James- 'I'm Wide Awake'

Nick Africano- 'Lonely Hearts'