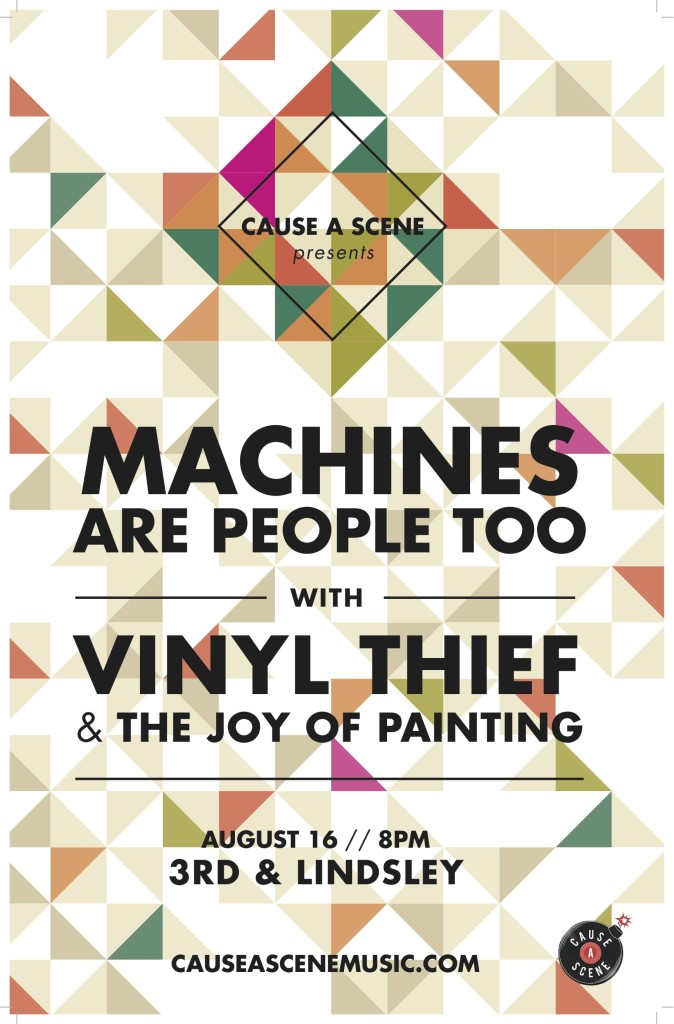 This Friday, we at Cause A Scene are proud to present a night of firsts. Not only is this our first show at one of Nashville's best venues, 3rd & Lindsley, but it is also our first time featuring three of this city's most fun and most promising bands. Machines Are People Too, originally formed in Chattanooga, TN, recently relocated to here in Music City and are quickly making themselves known among the local music scene and beyond. Fresh off the release of their second EP, Nickels and Dimes, Machines Are People Too are artfully crafting a synth-pop sound that is both vocally and instrumentally driven. We at CAS have been fans of this band's catchy melodies for some time now. Having written multiple posts about their climb up the musical ladder, we are thrilled to finally have them on a CAS bill. MRP2 has devoted the better part of this year working on their new EP and are now focusing on a series of tour dates, one of the first of which was a slot at this year's Lollapalooza, earlier this month in Chicago.
Completing the lineup for the evening are two other bands that both call Nashville home. Vinyl Thief are an electro-rock band that blend electronic samples and rock guitars to form a sound that has developed a strong local following. The band has spent the last several months on the road, touring across the eastern US as well as recording their first full album, Fathoms, due to release this fall. The album's first single, "Smooth," was released earlier this month. The Joy of Painting are another Nashville band with a garage pop sound that is defined by messy guitar riffs and carefully constructed melodies. The result is a unique and contrasting sound that has them beginning popping up on radars all across the Southeast. At a near breakneck speed, the band has recorded and released three EPs in less than two years, the most recent of which, Tender Age, was released earlier this summer.
You better bring your dancing shoes this Friday, because these three bands are going to put on one hell of a shindig that you will not want to miss! Listen below to a sample of what you will hear this weekend.You can purchase your ticket here for $10. Doors open at 9:00PM and the fun starts at 9:30PM.
– Christian Lerchenfeld