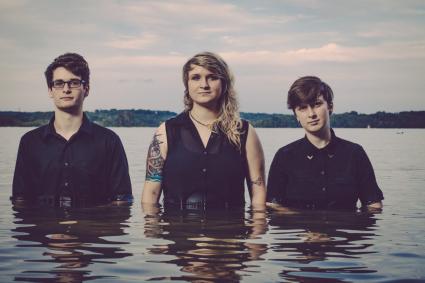 Though many of the songs on Josephine & The Wild Front's 2013 EP, Swallowed by the Ocean, were written years ago, when singer Josephine Moore was performing solo, it wasn't until fairly recently that Moore's current band coalesced.
After writing many of the songs on the EP and performing them as a solo artist, Moore joined a band called Holy Coast, as a singer and rhythm guitarist; the bands other members included drummer Preston Vaughn and keyboardist Krista Glover. When Holy Coast was dissolved, Moore, Vaughn and Glover decided to forge on with their own project, which became Josephine and the Wildfront. They would soon be joined by bass player Devan Köchersperger.
Over the past few months, Moore and the band have had several high points, including having a release party for their EP at Little Shop of Records in Murfreesboro, playing a show in Knoxville and being The Deli's Artist of the Month in August.
Recently though, Josephine & the Wildfront have experienced one big setback—the ruin of the band's main synthesizer after it was fried when they plugged it in while setting up for a show. They've reached out to fans, asking for support through show attendance and merchandise purchases to help fund the replacement of the Minimoog Voyager that was such a pivotal part of the band's dream pop sound.
You can hear Josephine & the Wildfront on Wednesday, December 12th at Nashville's Communion Christmas Special at the High Watt. Also playing are Joseph Arthur (featuring Mike Mills of R.E.M. and Bill Dobrow), Milktooth, Rosco Bandana and Cereus Bright.
– Meagan Lawson