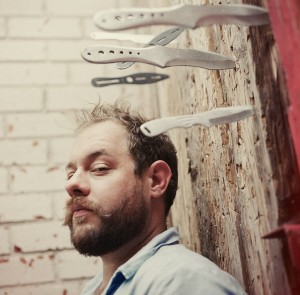 Just in time for the coolest nights of the year so far, Nathaniel Rateliff and the Night Sweats, a seven-piece soul band, will bring their warm, soulful sound to this month's Communion show.
Rateliff has been best known for his former band, Born in the Flood, as well as his solo work and recently released his second solo album, Falling Faster Than You Can Run. The album garnered positive reviews from Vanity Fair, New York Times and Brooklyn Vegan. Rateliff has toured relentlessly, for years, in support of his solo projects, trekking all over the world and sharing the stage with artists like Jessica Lea Mayfield, Laura Marling, and Bon Iver. He's also opened for both the Lumineers and Mumford & Sons.
But The Night Sweats are a relatively new project for Rateliff, having just debuted them in his current home base of Denver, earlier this year. The band is a complete departure from Rateliff's previous work; the band is upbeat; the music is danceable. He rehearsed with the band just a handful of times before their first show and wasn't sure if his fans would be accepting of the new sound. But the audience loved them and soon Rateliff's new project was opening for Dawes.
Though Rateliff hasn't played soul music in the past, it seems like a natural step for someone who grew up listening to Otis Redding and James Brown. Rateliff has said you have to be accepting of whatever music comes to you and with the Night Sweats, he's not just accepted the music, but given himself to it. The performances are intense, with Rateliff losing himself to the beat, dancing, sweating, slinging his hair. Though he's said that he doesn't want the Night Sweats work to define him, it's obvious that Rateliff is a real soul man, who commits himself wholeheartedly to each project he works on. You can hear Nathaniel Rateliff and the Night Sweats headline this month's Communion Nashville show at the Mercy Lounge on November 14th alongside Tennis, ON AN ON, Savoir Adore, The 4onthefloor, VITEK, and Shelly Colvin.
– Meagan Lawson
Nathaniel Rateliff and the Night Sweats- 'What I Need'