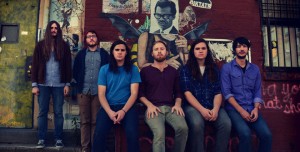 A little over a year ago, Roadkill Ghost Choir released their debut EP, Quiet Light, featuring the song "Beggars' Guild." When an excellent live video was posted of the band performing the folksy, romping song, they began to draw some attention. Now, just a little less than a week before playing at Nashville's first Communion show in several months, the band has released the official music video for the single.
Brothers Andrew, Maxx and Zach Shepherd formed the band along with Kiffy Meyers, Joey Davoli and Stephen Garza back in 2010 when Andrew wanted to put together a band to fill out the sound of some songs he had recently written.
The single "Beggars Guild" might be banjo-heavy and as Americana as apple pie, but on many of their songs you can hear tinges of Nirvana and Radiohead, alongside echoes of the bands biggest influences—Wilco, Gram Parsons and Fleetwood Mac.
Over the past year Roadkill Ghost Choir's incessant touring has garnered them a lot of new fans. Besides a run of dates with Band of Horses, they've also played Mountain Jam Festival, Forecastle Festival, Austin City Limits and have thirteen tour stops in October alone.
For now, fans looking to hear more from the band can order a clear vinyl single of "Beggars' Guild," and catch them at Communion Nashville, at the series' new home, Mercy Lounge and the High Watt on October 10th, where they'll join T. Hardy Morris, Willy Mason and Shonna Tucker & Eye Candy, among many others.
– Meagan Lawson
Roadkill Ghost Choir- 'Beggars' Guild'