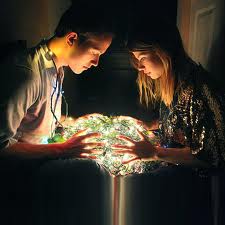 Duet, Savoir Adore, has shaped a whimsy world all its own, one absent of its fast-paced, Brooklyn roots. In 2007, discouraged by lack of musical success, Paul Hammer and Deidre Muro withdrew into the woods, leaving the gray, daunting city in their wake. Over the course of only two days, the duo managed to produce a concept album, The Adventures of Mr. Pumpernickel and The Girl with Animals in Her Throat, which was met with more success than any of Hammer or Muro's previous projects.
This EP motivated the pair to aggressively pursue their musical passions, under the official moniker, Savoir Adore. Savoir Adore's sophomore effort, The Wooded Forest (2009), launched the duet even further into indie music fame, allowing it to take the underground by storm. The group's charming sound blended with perfectly placed rhythmic layering and understated lyricism created a warm synth-pop that has grown irresistible.
Savoir Adore's charm flowed flawlessly into its most recent record, Our Nature (2013). Muro's vocals are gently draped over the infectious pop pulse that courses through the record. This, coupled with Hammer's unflinching, Morrissey-esque voice, is enough to have the most callous, flannel-toting, beard-sporting indie rocker swinging his hips and seeing the world through rose-tinted glasses.
It's this bright, electronic instrumentation paired with woodsy words that make Savoir Adore musically interesting. Glued to their "No acoustic guitars" rule, Hammer and Muro have an electronic musical style. A style then infused with lyrics that might best serve as words to a hit folk ballad. "Loveliest Creature" is the best example of this nature driven, syth-pop marriage.
This marriage has sparked Savoir Adore's success. Hammer and Muro have truly contrived an airy, imaginative world of harmony. Through their fun instrumental style and earthy lyrics, Savoir Adore has produced impeccable tunes that are bound to put a smile on any unsuspecting listener's face. Savoir Adore will be rocking Mercy Lounge with Tennis, Nathaniel Rateliff and the Night Sweats and many more on Thursday, November 14th at Mercy Lounge.
– Caitlyn Grabentein
Savoir Adore- 'Dreamers'