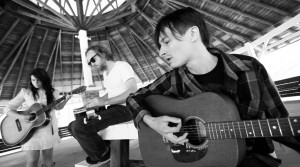 T. Hardy Morris recorded his first solo album, Audition Tapes, in Nashville over the summer and he's set to return to the city to play the first Nashville Communion show in several months.  The Communion shows will start again on October 10th, with a new home at the Mercy Lounge and the High Watt.
Morris is known for co-founding Dead Confederate back in 2006 and since then has put together Diamond Rugs, a venerable group consisting of members of bands The Black Lips, Los Lobos, and Deer Tick. Over the past six years, the two projects have kept Morris busy and on the road. He's toured with Meat Puppets, Manchester Orchestra, Drive By Truckers and more. But within the past year he finally took the time to work on his solo album, "Audition Tapes," and when the time came, he knew exactly how he wanted to record it.
Morris wanted to record straight to tape, in a small studio, late at night and he was able to find the right place to do it in Nashville. The songs are intimate enough, but when you consider that Morris decided to include the noise of the studio on the recordings, it becomes even warmer. Listening to the album, you can almost imagine you're in the room while Morris records the songs, listening to count offs and creaks in the floor as he moves around.
The Communion show is sure to be the perfect setting to hear Morris unplug from the psychedelia of his other projects, for a sort of homecoming celebration for the haunting, fragile, alt-country songs he recorded here for Audition Tapes less than a year ago.
– Meagan Lawson
T. Hardy Morris- 'Share the Needle' (Live at Paradise Gardens)