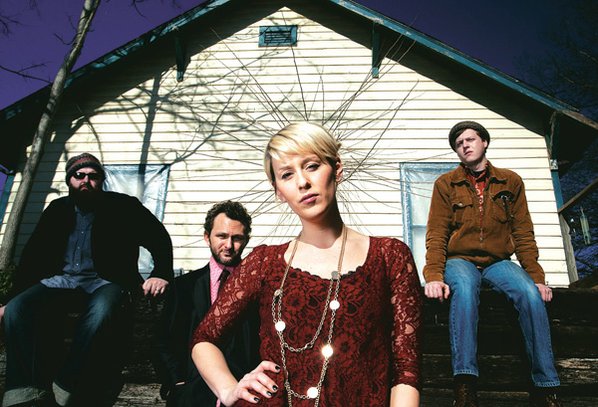 In front of every good band is a good frontman. In the case of Luella and the Sun, it's an excellent frontwoman.
From the moment Luella sings her first note into the mic, it's a voice so different and unique that you can't possibly be anything other than smitten.  And if her voice doesn't immediately pull you all the way in, her sweet dance moves certainly will. There's nothing more fun than watching a performer who's having fun and that's something Luella absolutely brings to the stage.
But it's definitely the guys—Adam, Jon and Joe—that set the overall sound of the band, with their smooth guitar licks and solid drum beats. And while the fast upbeat songs will have your head noddin' and your feet tappin', it's the slower songs that really showcase what the band is capable of and just how magical their sound is.
And speaking of the band's sound, like most bands these days Luella and the Sun are hesitant to put a label on just exactly what their "sound" is.  I guess it is a bit tricky trying to describe songs that seem to weld together soul, funk and rock. But just take a listen to their single "Fly so Free" and you can define their sound for yourself.
It's really amazing just how cohesive their sound is, considering they haven't been playing together for very long. Although a couple of the bandmates have known each other for a while and some have even played together before on other projects, the four of them have only been playing together as Luella and the Sun since sometime in mid-to-late last year.
As a recently formed band in Nashville, they describe their newness as a positive aspect, comparing their musical purity similar to that of a child. Their sound is new and fresh and un-tampered with by outside sources. For a band that's already experiencing the success that Luella and the Sun is enjoying so far, that's a pretty significant accomplishment.
If you're in the Nashville area, I highly recommend you get out to a Luella and the Sun show…and quickly. Through the fueling of upcoming shows at SXSW in Austin, Texas this March and the Hangout Music Fest in Gulf Shores, Alabama this May, these cats are gonna blow up fast. Something tells me you will be able to catch them in cities far and wide outside of Nashville very, very soon as the buzz around this band stretches shore to shore.
For now, though, you can catch Luella and the Sun in their home city of Nashville at Music City Roots from the Loveless Cafe on February 27th and the Mercy Lounge on March 2nd.
– Christen Lewis