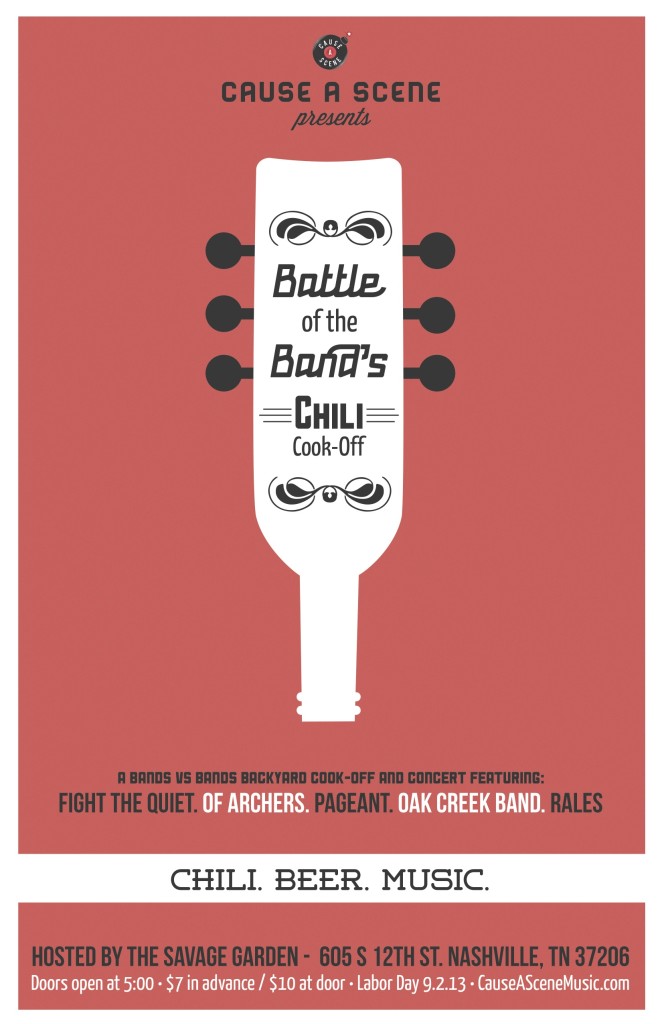 For those who do not yet have plans for this Labor Day, and even for those who do, we strongly suggest you make some time in your holiday schedule to come out to what is sure to be the most hoppin Labor Day celebrations in town. Cause A Scene is doing it up right with two of the America's oldest greatest art forms, music and chili! We are throwing a backyard block party hosted by The Savage Garden in 12 South, complete with a chili cook-off and battle of the bands starting early in the evening this Monday and we're gonna go until the chili is gone and the bands can't play another note.
The evening will feature five Nashville area bands who will attempt to win the crowd's favor with both their musical abilities and their culinary skills. Each band will enter their own recipe of chili for all who attend to judge, then they will each plug up the guitars battle it out on stage. Points calculated from the crowd consensus in each category will determine who will walk away with the first Cause A Scene Labor Day Title!
The slated competition includes Flagstaff, AZ native alt rock band, Fight the Quiet, Of Archers, and the brother/sister helmmed indie-folk quartet, Pageant. Completing the fight card for the evening will be Nashville garage rock band, Rales, and The Oak Creek Band, an Americana four piece who also hail from Arizona. You can sample the evening's music below, but you'll have to wait to sample the chili until Monday night when the best shindig of the holiday weekend is officially underway.
Come with a hankerin' for some smokin' chili and kick ass music! Secure your spot and get your tickets here for $7 in advance. The word on this one is spreading quick and we expect it to be packed out. Tickets will also be sold for $10 at the door. The party starts at 5:00 PM at 605 S. 12th Street.
– Christian Lerchenfeld
Fight the Quiet- 'Secrets'
Secrets by fightthequiet
Of Archers- 'Don't Look'

Pageant- 'Trustfunders'

The Oak Creek Band- 'Stay Stay'
Stay Stay by The Oak Creek Band
Rales- 'Minnesota'