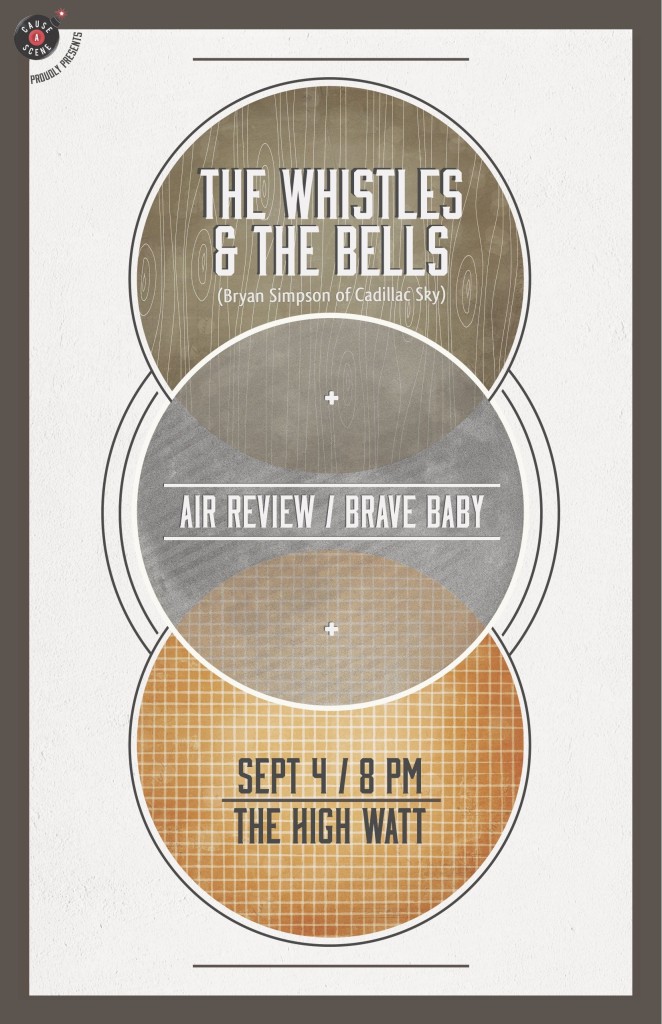 Cause A Scene takes it back to Cannery Row for the second time this week, this Wednesday, this time at The High Watt. This particular show in one that I personally have been anticipating for some time now, as the lineup for the evening showcases three exceptional talents from all over the Southeast, all of which are either CAS vets or bands we have been yearning to work with for some time now. Headlining the evening and making their live debut will be The Whistles & The Bells, the new project of Bryan Simpson, former lead singer of the accomplished bluegrass band, Cadillac Sky. Nearly two years in the making, The Whistles & The Bells is Simpson's first effort since his departure from Cadillac Sky nearly three years ago. With such a long hiatus and so much buzz building around whispers of Simpson's new project over the last couple of years; we could not be more excited or more honored to be a part of his first performance as The Whistles & The Bells. And if that's not enough, the new band will be joined by some very prominent surprise vocal talents from around Music City, to make the night even more memorable.
The excitement does not end there. Dallas, TX band, Air Review, will also be making both their CAS and Nashville debut. Following the release of their sophomore album, Low Wishes, earlier this year, I was fortunate to catch up with Richard Carpenter, who plays keys for the band, in an interview that was featured right here on causeascenemusic.com. Having yet to play here in Nashville, we at CAS have been hoping the band would make a stop through our fair city as they have been heavily touring the greater U.S. for the better part of this year and we are amped that they chose to work with us in doing so.
Playing first in the evening's lineup is an extremely talented and promising group of musicians from Charleston, SC. The indie-rock band Brave Baby played their first Cause A Scene show earlier this summer alongside Radiation City and Nashville locals Commitment Bells. At that show they played a set that is burned in my mind as one of my favorite CAS performances to date. Their full-length album, Forty Bells has not left my car's CD player for some time now and I cannot wait to see these guys a second time around.
With a lineup chocked full of rousing first and return appearances, trust me when I say that you do not want be anywhere else in Nashville besides The High Watt, down on Cannery Row this Wednesday night. Secure your spot and get your tickets here for $8, as we expect this one to fill up fast! Doors open at 7:00 PM and the music starts at 8:00 PM.
– Christian Lerchenfeld
Air Review- 'America's Son'

Brave Baby- 'Forty Bells'