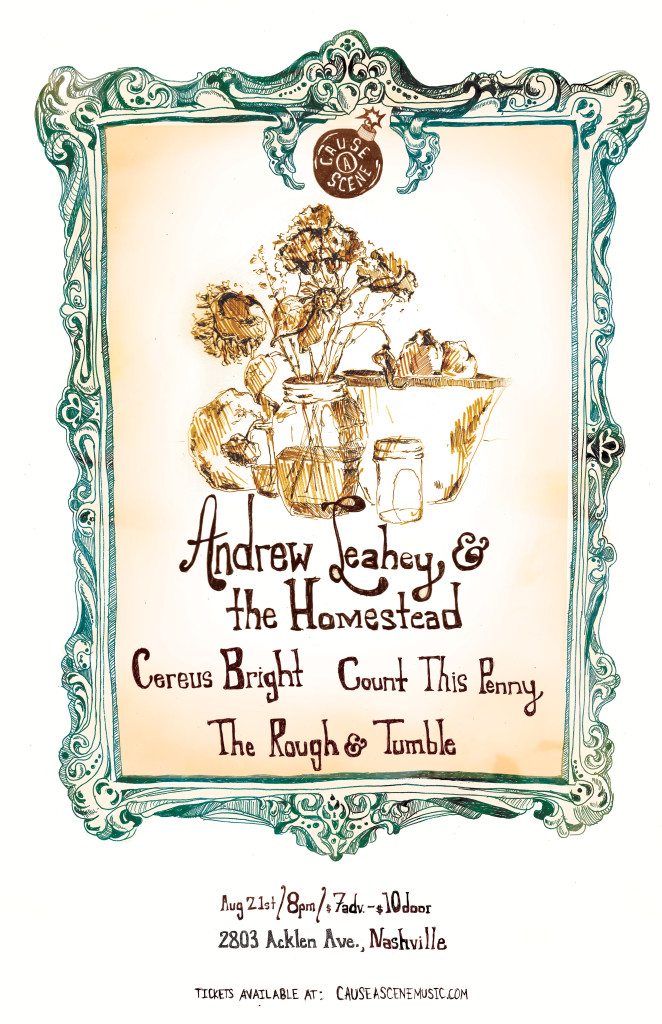 Come out to the west side of town, just a mile or so from Hillsboro Village and Vanderbilt's campus this Wednesday night for a lineup of folk and Americana acts perfect for an August evening in Tennessee. Classically trained, Andrew Leahey began his career singing in the Juilliard Chorale in NYC performing at venues like Carnegie Hall and Lincoln Center. Dissatisfied with classical music, Leahey headed to Michigan where he began to focus on songwriting. Now a resident of Nashville where he formed Andrew Leahey & the Homestead, Leahey has cultivated a sound that blends rock n' roll, Americana and alt-country, creating a rich and authentic sound that echoes an authenticity that is rarely heard. It was while on tour between Nashville and Leahey's native hometown of Richmond, VA that he found the inspiration for the band's latest EP, Summer Sleeves, which released this past April. Mixed by David Barbe, who has produced albums for the likes of the Drive-By Truckers and Son Volt, Summer Sleeves is a stunning showcase of the talent that Andrew Leahey & the Homestead have to offer.
Also on the bill for the evening are folk musicians Tyler Anthony and Evan Ford. This Knoxville based duo, known as Cereus Bright, strives to make music that is rooted in simple melodies and anchored by their passionate harmonies and lyricism, and it is safe to say that they hit the mark. Having released their debut EP, Goldmine, only last November, the duo has spent the months since touring the greater Southeast with the sole goal to spread their music to all who care to listen. They will be doing just that this Wednesday as they make their second Cause A Scene appearance, and we at CAS can't wait to welcome them back, and this time around they will be bringing their full band along with them.
Indie folk band Count This Penny will also be filling the Nashville air with their acoustic melodies this Wednesday. Located out of Madison, WI, Count This Penny has garnered a lot of buzz in only a few short years, having their national radio debut on Garrison Keillor's A Prairie Home Companion. The trio also recorded and released both a full-length album and EP in 2012, the latter of which, titled From Paper to Iron, took the #6 spot on the iTunes singer-songwriter chart.
Local folk duo The Rough & Tumble, will complete the lineup and are sure to complement an evening of spectacular performances. The festivities will begin at 2803 Acklen Avenue at 8:00PM. Get your tickets here for $7 in advance. Tickets will be $10 at the door.
– Christian Lerchenfeld