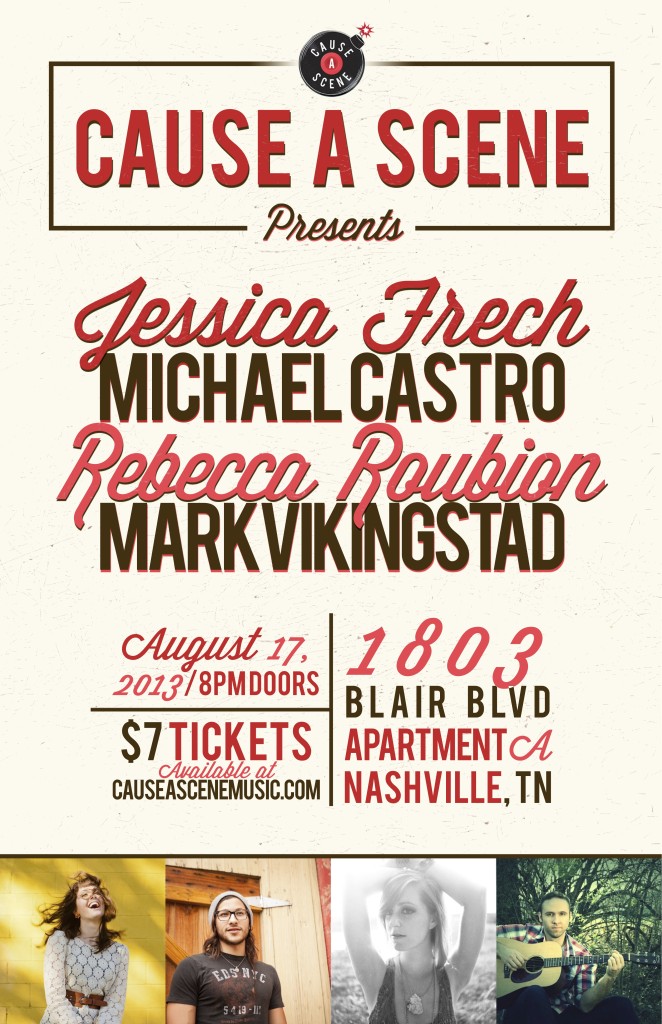 Clear your schedule this Saturday night for a lineup of unique and talented musicians. Jessica Frech is a folk pop artist and Nashville native who has been expertly using social media and internet mediums to spread her talents to a vast audience. Garnering viral buzz with the YouTube sensation "People of Walmart," Frech has used social media platforms and her fan base thereof to launch a Kickstarter campaign to help bring the dream of her full length project Reality, to fruition.
Following suit in using modern mediums to expose one's personal gifts is Michael Castro. Featured on season 8 of American Idol and brother of American Idol season 7 finalist, Jason Castro, Michael is a singer-songwriter and Nashville transplant from Dallas, TX, who is taking his talents beyond the television audience to the music gridiron, Music City. Castro has released 3 independent records and continually releases one original single each month via iTunes.
Also featured on the evening's bill are two more Nashville transplants, the first of which is a Cause A Scene veteran, Rebecca Roubion. This indie-pop artist is making major headway, carving a name for herself in the Nashville music scene with a soulful, folk-infused sound. Roubion has recently released two EPs that complement each other as a sort of companion project, the first of which, Fields, released last fall and the second, Forests, this past spring. New York state native, Mark Vikingstad, will also be gifting us with his talents this Saturday. This singer-songwriter, having learned the guitar from a young age and having spent the last decade honing his songwriting skills, possesses a sound that is defined by feel good lyricism and upbeat acoustic melodies. Accompanied by a captivating live presence, Vikingstad is surely making his name known across Music City.
This spectacular night of talent will be going down at 1803 Blair Blvd. The doors open at 8:00PM and the music starts at 9:00PM. Get your tickets here for $7. Can't make the show, but don't want to miss out on this amazing lineup? Don't worry, we've got you covered! Get your tickets here to view this Cause A Scene show livestreamed via U Stream, for only $5.
– Christian Lerchenfeld
Jessica Frech- 'Reality'

Michael Castro- 'Young and Free'

Rebecca Roubion- 'Love Me Now'

Mark Vikingstad- 'My Heart Flies Up'