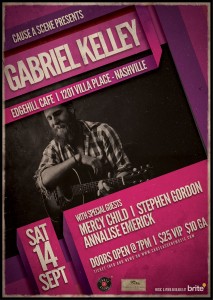 Join us this Saturday night for some stripped down folk tunes for our first show ever at The Edgehill Cafe. Headlining the evening is Nashville-based folk singer songwriter, Gabriel Kelley. Kelley's music is rooted in the experiences of his "life's journey" that span from his childhood, growing up on a farm just outside Athens, GA, to his adolescence abroad in Sweden and his early adult years in which he traveled his traveled across the country in his Astro van with only his music in exchange for food and shelter. In his early twenties, his developed writing chops landed him a gig in Nashville as a staff writer for a country music publishing company. Despite the material gains that the job provided it caused a rift in Kelley's creative spirit. He eventually left Nashville and the staff writing position on Music Row and once again set off on the open road. It was in this time that he immersed himself in his songwriting, dwelling on his own life experiences to write the songs for his first album, It Don't Come Easy. "I waited six years to make my first album," Kelley says of his 10 track album, which released last year. The statement draws reference to the meticulous and personal nature of each song, as well as the recording process in which he collaborated with engineer/producer, who engineered Alison Krauss' 2011 album Paper Airplane, for which he won a Grammy, as well as several other revered talents in the industry. Kelley is currently spending his time and effort doing what he loves most, writing and playing music. He is currently touring while also working on his sophomore effort, Lighter Shades of Blue. You can help Kelley bring his second album to fruition by visiting his Kickstarter page here.
Playing alongside Gabriel Kelley this Saturday night are Nashville natives Mercy Child and Kentucky boy Stephen Gordon. Mercy Child is the collaboration project of three close friends, Erika Chambers (vocals, lyrics), Kyle Aaron (vocals, fiddle, mandolin, guitar) and Madeline Lewis (lyrics, vocals, guitar). This newly formed trio's musical identity is rooted in the sounds of folk and Americana music and is characterized by characterized by tight, three-part harmonies, emotive lyrical imagery and dynamic fiddle and mandolin solos. Mercy Child's video for their first single, "Closer" released just last month and the band's debut EP is expected out this fall. Bowling Green, KY native Stephen is and indie-folk singer songwriter who has been perfecting his craft for over ten years, drawing influence from artists such as; Ryan Adams, Frank Sinatra, and Josh Ritter. In the time he has been making music, Gordon has written and released one full-length album and two EP's, the most recent of which, Out of the Jar, released last year.
Capping off the evening's lineup is Boston, MA-based folk songstress, Annalise Emerick. Emerick writes songs that resonate deeply with a wide audience, as demonstrated from the release of her acclaimed 7-track debut EP, Starry-Eyed in 2011, which debuted on the iTunes Singer/Songwriter chart at #9 its first day. She began her "Somewhere in Between" tour this year and has continued raking in the awards, earning first prize in the 2013 New England Songwriting Competition and second place in the 2013 Solarfest singer/songwriter competition. Needless to say, we are excited that she is making a stopover in Nashville to play with CAS this weekend.
Don't miss out on a lineup chocked full of talent and beautiful music at 1201 Villa Place this Saturday. Doors are at 7:00 PM and the music starts at 7:30 PM. VIP tickets are $25 and includes dinner, salad, desert and drink. General admission is $10. Get your tickets ahead of time and ensure your spot at this unique event here.
– Christian Lerchenfeld
Gabriel Kelley- 'Only Thing To Do'

Mercy Child- 'Closer'

Stephen Gordon- 'Fall For You'

Annalise Emerick- 'This Love Won't Break Your Heart'