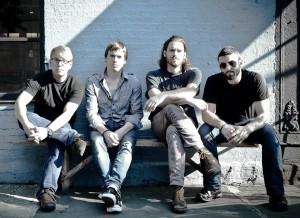 Based in Brooklyn, NY, Everest Cale is a band that is making long strides within, whilst pushing the limits of the indie rock genre. Swelling guitars, anthemic climaxes, and narrative lyricism are just a handful of the key traits that give this band their distinctive and lingering identity. Meeting in South Carolina nearly ten years ago, college friends Brett Treacy (vocals, guitar), Jeremy Kolmin (guitar) and Aaron Nystrup (bass) have bounced in and out of each others' lives but have always found themselves reunited by their love of music. It is this shared calling that eventually led the trio to New York, where with the addition of drummer Nate Becker, Everest Cale was formed in 2010.
In the time since, the quartet have constructed a unique sound that draws from classic rock and explores the reaches of experimental indie, and is rooted in Treacy's songwriting. The band released their first EP, Beast in 2012 and has developed a strong fan following in New York and around the US, playing alongside a number of rising indie acts, such as Radiation City, who played a Cause A Scene show earlier this summer.
Everest Cale has spent the last year hard at work on the material for their new EP, Constellation Choir, due out October 22nd. "Fossils," the first single from their sophomore effort, released just last month and if it is any indication of the direction that this band is heading in, I for one can't wait to hear what is next. The band already has plans to head back into the studio before the end of this year in hopes of a third EP release in Spring of 2014. With what appears to be no limit of creative inspiration and a sound that often explodes with passion and heart, Everest Cale is a band you will want to keep a sharp eye on.
– Christian Lerchenfeld