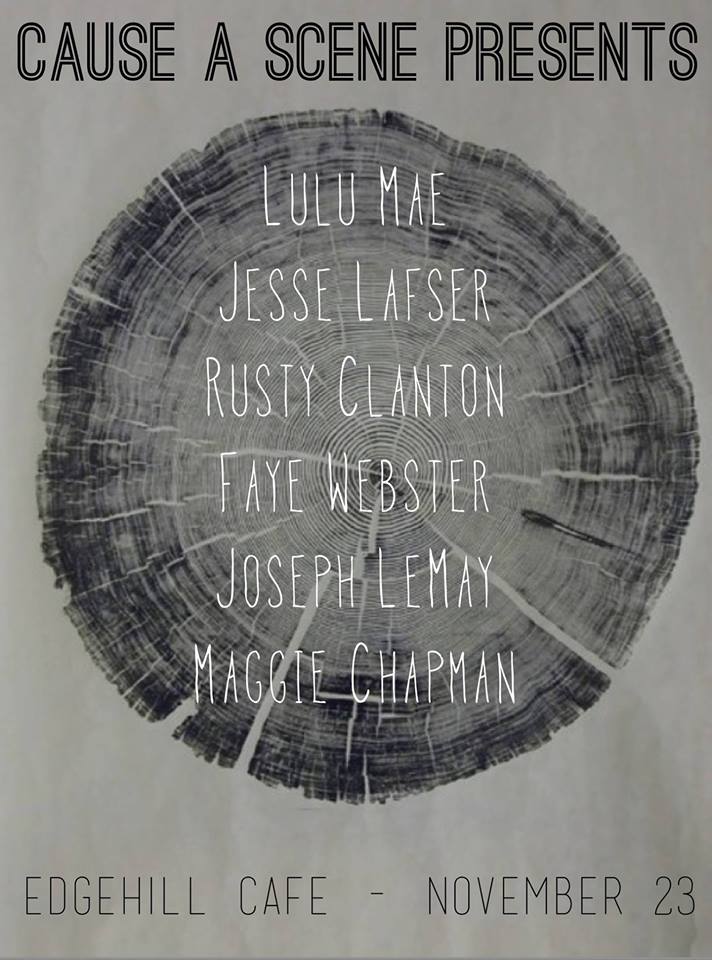 This Saturday we are heading back to Edgehill Cafe to close out another kick ass year at Cause A Scene. Saturday evening will mark our 63rd and last show of 2013, and we think that's a damn good reason to celebrate. We couldn't think of a better way to do so than to put together a lineup jam-packed with some of the best up-and-coming talent we could find, some who are CAS first-timers and many of which are making their much awaited returns.
The headliner for the evening is the Nashville-based indie folk outfit Lulu Mae. The return of this 7-piece band to the CAS stage is one that we have been eagerly anticipating and we can't wait for them to rock the house at Edgehill. With a sound that draws influence from Ryan Adams and the Decemberists, Lulu Mae's magic lies in their ability to unfold stories before their audience and their family-bound chemistry. Putting a fresh spin on the term "family band," Lulu Mae is comprised of frontman Joel Finley and his wife Sarah (vocals), their college friends, brothers Ben Smith (bass) and Adam Smith (keys, trumpet) and Adams wife Jen (backup vocals). The recent additions of roommates Anthony Mangin (electric guitars) and David Sutton (drums) have given this band a distinct sound that is extensively explored on their first full-length album, The Mockingbird and the Dogwood Tree, which was released last year.
2013 has proven to be a big year for Lulu Mae and huge stepping stone in what seems to be a limitless direction. They kicked the year off by winning Music City Mayhem, Lightning 100's giant annual local music competition, in April and opened up for Local Natives and Leagues in September in front of a crowd of thousands at this years Live on the Green, Nashville's annual free concert series. With all the exposure they have received this year, Lulu Mae has no plans of slowing down and are closing out 2013 working on a sophomore release that is due to release next year.
Jesse Lafser, who also opened for Lulu Mae at their last CAS appearance, will be setting the stage once again with her Americana influenced indie-folk tunes. This St. Louis native, who now calls Music City home, brings an atypical sound to Nashville's abundant music scene and we can't wait to hear again this Saturday. Lafser's most recent album, Land In Sight, was released in 2012.
Also on the evening's bill are two folk singer songwriters and CAS alums, Faye Webster and Joseph Lemay. Atlanta-based Faye, opened for Little Tybee and The Get Togethers at an East Nashville back in May is making her Nashville return this Saturday and we are thrilled she chose to join the CAS ranks once again. With the release of her first full-length album Run and Tell earlier this year, Faye exudes a musically prowess and maturity well beyond her years. Joseph Lemay played one of our first house shows of 2013 and we are stoked to welcome him back to help close out the year. Possessing a bare-bones sound that is grounded in masterful lyricism, Lemay writes his songs from a trailer located in a small town in West Tennessee, but refers to Nashville as his "musical nucleus." Joseph is currently in the studio working on his debut album.
Filling out an already stellar set musicians, are two CAS newcomers who are sure bring a perfect balance to the evening's lineup. Rusty Clanton is a singer songwriter who calls the Cleveland, TN home and the influence of the East Tennessee hills and their sounds are a clear influence in his music. Maggie Chapman, another young up-and-coming singer songwriter with a voice that possesses a maturity well beyond her years, is a recent Music City transplant by way of Tampa, FL. This being her first Nashville show, we are honored to help her spread her music to this great city.
This lineup is going to be beyond killer and we want every friend and music lover in town to come help us celebrate and cap off another year of fantastic music discovery. Space at Edgehill is limited so ensure your spot by getting your tickets early here. Doors open at 7:00 PM and the music will start promptly at 7:30. Tickets are $5.
– Christian Lerchenfeld
Lulu Mae- 'Fiction of Speed' (Live at Music City Roots)

Jesse Lafser- 'Land In Sight'

Rusty Clanton- 'Ribs and Things'

Faye Webster- 'I Wanna Be Like You'

Joseph Lemay- 'Molly My Girl'