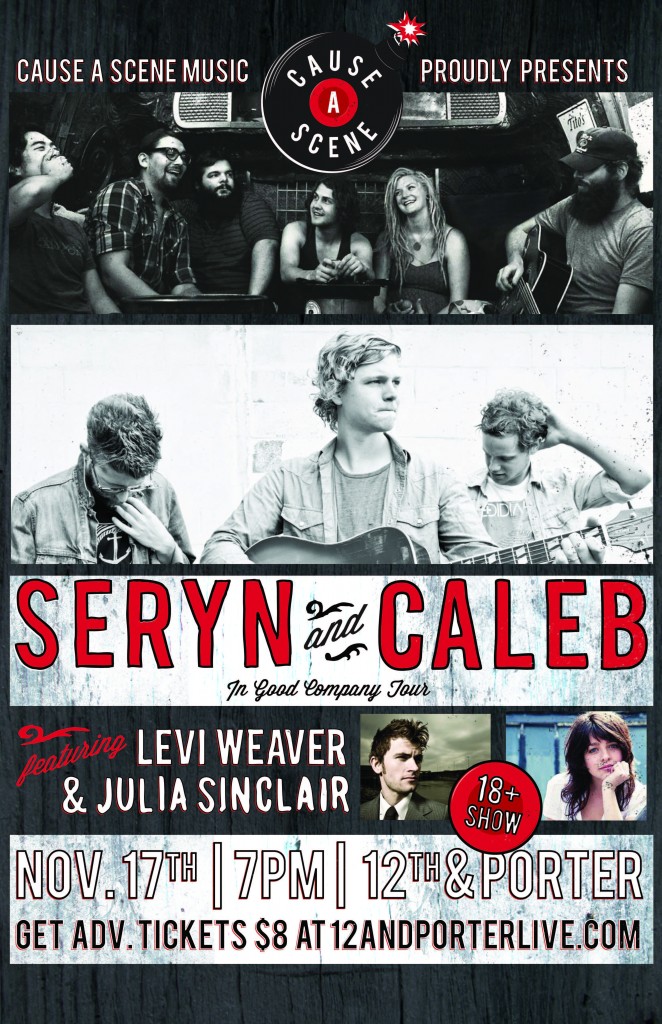 Today marks a very exciting moment in the history of Cause A Scene. We were graciously asked to present our first show outside the confines of a house in Nashville, and we could not be more thrilled with this show and the insanely talented lineup on board. Today also marks a jumping off point for Cause A Scene, as we are in the process of planning out a full-scale production company with the specific aim of promoting shows around Nashville with the best new talent that we can offer.
On the night of Saturday, November 17, at 12th & Porter, we will be hosting one of our all-time favorites, Seryn, fresh off their performance in front of 225+ people at our most recent house show and local legends CALEB who if you haven't seen live, you're severely missing out. It is very fitting to be hosting Seryn for this show, as they're the band that really launched Cause A Scene in the first place. We couldn't be happier to promote these wonderful folks. CALEB (Caleb and Will Chapman, Scott Mills) released the fantastic "To The Ends of the World" EP last fall and are poised to breakout in a huge way in the coming year. These guys might be young, but they possess the musical chops of artists twice their age.
As if that wasn't enough musical goodness for you already, we'll have the brilliant Levi Weaver and Julia Sinclair gracing the 12th & Porter stage as well. We had the chance to catch Levi close out the SofarSounds Nashville launch in early September are were left nearly speechless at the his sonically and stylistically rich songs that carried the weight and depth of an artist far beyond his years. And as for Julia? Well, we were lucky to have her open the Seryn house show and we could have listened to her play the rest of the night. A true gem of an artist.
Tickets are available on 12th & Porter's website for $8 in advance and will be available for $10 at the door. Hurry and get yours before they're gone. If Cause A Scene has anything to do with it (and we will), this show will sell out quickly. See you on November 17th!