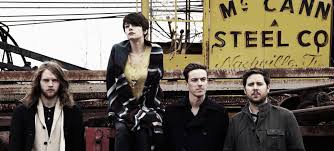 Just a few months ago, Kate Tucker and the Sons of Sweden's forthcoming album The Shape The Color The Feel was little more than an ambitious Kickstarter project, an appeal to actually help Tucker create her new album, press it to vinyl and create eight to ten separate videos that would accompany the songs.
Today, with the help of ten filmmakers, Tucker's project is coming to fruition. The video for the album's first single, "Looking Around," directed by Tucker supporter Jason Smythe, was just premiered and several others are already on the way. The film for the song "Best Friends' Love" was recently shot on the top floor of Nashville's Cannery Ballroom and a behind the scenes look at the shooting of the film for "Hangover" was recently released as well. The videos, which are being shot in various cities all over the country, are all leading up to the release of the new album on February 11th.
In addition to all that the band has going on with the new album and films, they've also been selected to participate in the Nashville Indie Spotlight compilation that will be available on iTunes December 3rd. The band's next single will be debuted on the compilation and they'll headline the release party for the spotlights tonight at the Stone Fox. Korby Lenker, Emily West, KS Rhoads, Jillian Edwards and Shannon LaBrie will also be playing. Tickets are $7.
– Meagan Lawson
Kate Tucker and the Sons of Sweden- 'Looking Around'