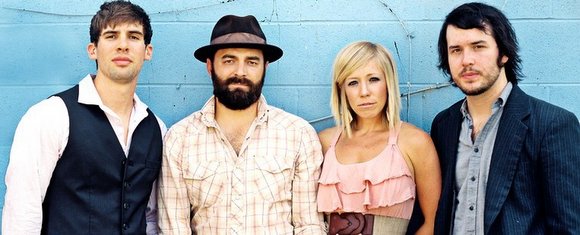 One of my favorite things about living in Nashville is hearing so many amazing artists making great music and thinking, "just wait til the rest of the world hears this". For those of us here in Nashville who are fans of Drew Holcomb & The Neighbors, we've been waiting a long time. With Chasing Someday, that breakthrough began to happen. Last Tuesday, that it hit like a whirlwind as the band's newest effort Good Light, found it's way into the iTunes Top 10.
Good Light is the record we've always wanted from Drew and his neighborly posse. Sonically, they've departed from the big production of Chasing Someday to a more sparse sound. Bluesy guitar, pedal steel, and melodic piano parts blend together nicely. Embracing this Americana/alt-country vibe leaves so much more room for Drew and Ellie's vocal chemistry, which, if you've seen them live, you know that's an amazing thing!
More importantly though, it draws your attention to the songwriting. The Holcombs have always been gifted at writing hopeful songs. In Good Light, it seems that they've mastered that, with songs that are so very true to the human experience, but taking that pain and sorrow and creating a place where light can seep through the cracks. "Is it possible to be happy and be human?" Holcomb asks, and then immediately follows with "certainly, but not without the pain". It's this unromanticized optimism and dreaming that makes this record so inspiring. Yes, there will be hardship, yes there will be sorrow, but you can still find joy within that. And coming from someone who has worked so hard to be where he is now, these songs carry a weight. They're more than just words crafted together, and it's spectacular.
There's nothing better than watching good people, who make good music, succeed. It's been fun to see these guys do that!
– Jameson Elder
Here's a brilliant acoustic version of "Tennessee" off of 'Good Light'. Can't wait to see the band perform this at Bonnaroo this year!