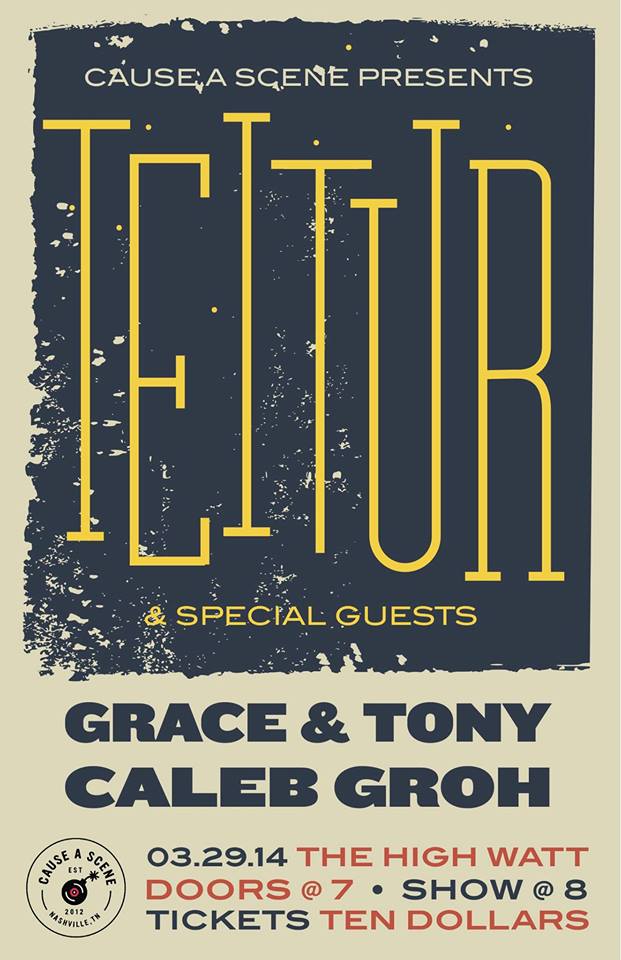 We at Cause A Scene are pumped to bring you a night full of great company and some of the best music this city has to offer, this Saturday night at The High Watt on Cannery Row. Headlining the evening's bill is gifted and seasoned singer songwriter, Teitur (Tie-tor). Hailing from the Faroe Islands in the North Atlantic, Teitur has spent the past decade honing his craft and playing his music for all to hear. Having left his homeland in the early 2000s to pursue his career and record his first album, Teitur returned home to record his sixth and most recent album, Story Music. Recorded in an old abandoned ice factory, Story Music echoes the spirit of the homeland he left so many years ago. With a strong following in the UK and an ever-growing fan base here in the States, we can't be more excited to host Teitur on his stop through Nashville.
Filling out the night's set are two Tennessee based bands, Grace and Tony from Lawrence County, TN and Nashville's own Caleb Groh. Grace and Tony can best be described as a punkgrass couple band, and yes, their sound is as unique and interesting as their genre title. Grace and Tony White's sound, a fusion of punk and bluegrass, was the lovechild of their budding romance and their passion to create has not yet ceased. Both musically influenced by their families, Grace by the gospel music and bluegrass of her childhood and Tony by his brother John Paul White of The Civil Wars. Both bring a passion and spirit to their music that sets them apart with every lyric and every note. The duo released their debut record November just last year.
Caleb Groh is a Nashville based folksinger songwriter and CAS alumnus who continues to wow us with every performance. Born in Connecticut and having spent his life up and down both coasts, Groh has been writing, recording and playing his own songs since he was a young teen. Spending his early years recording and playing with various projects, Caleb began writing and recording as a solo artist in 2011. In the time since he has grounded himself here in Nashville where he released his EP, Down Dakota!, and his full-length album, Bottomless Coffee, in 2013.
Come help us kick off the spring season this Saturday night with some great tunes! Get your tickets here for $10. Doors open at 7:00 PM. Music starts at 8:00 PM.
– Christian Lerchenfeld
Teitur- 'I Was Just Thinking'

Grace & Tony- 'November'

Caleb Groh- 'Bottomless Coffee'